Pu'er
sold out
Mandala Tea "Heart of the Old Tree" 2012 100g Raw Pu'er
From high atop Nan Mei Village, hails this Mandala Tea exclusive sheng pu'er cake. We were fortunate to visit this farm and walk among the 300-400 year old trees from which this leaf was picked! In China, this is called Gu Shu Cha or "Old Tree Tea".
In the aroma of the tea liquor, we smell thick caramel and sugar cane while a gentle breeze blows in hints of a distant campfire where the sweetness of burning birchwood is evident. But this tea is far from what we would call smoky. Get out your aroma cups and check this one for yourself. In later infusions, we find wonderful floral notes lingering.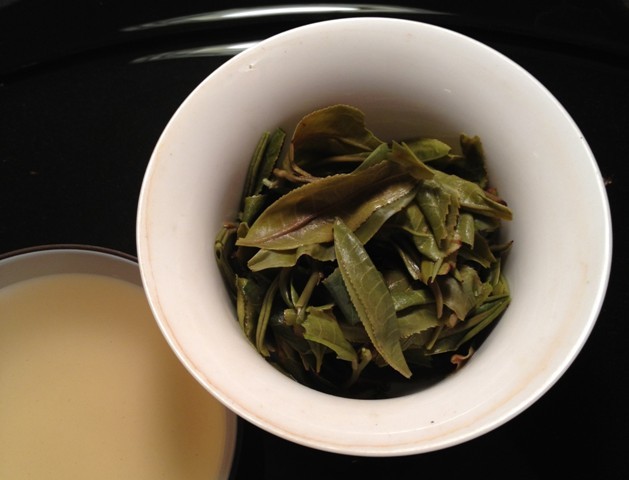 Additional Info
This is spring 2012 material, first flush - clean growing area, ZERO sprays, very high-altitude. There is a photo included that we took while we were hiking through the old trees being guided by the grower, Mr Wei!
As we prepare this, we are transported back to our time on that mountain, drinking in the crisp, clean air and drinking the freshly processed mao cha and sipping with old (and new) friends.
The flavor is full on the tongue, a butteriness present while the salivary glands are treated to a subtle cleansing. Slightly vegetal, (sweeter if you are using lower water temps - we use boiling), almost no grassiness. Later steepings bring out a High Mountain Taiwanese oolong quality to the flavor. We look forward to watching the years pass for this one.
We named this tea due to the effect we feel in our body/mind. This tea is definitely one to help remove stagnancy in the meridians and we feel it most in the heart energy. The cha qi (tea energy) courses through the body and creates a feeling of "calm vibrancy", quite noticeable in the heart center. Read more about the energetics from this review of the cake.
This cake is going to age very nicely and we've tried several older teas from this mountain and were so pleased with the results. Sheng pu'er is one of those things that makes us wish we were immortal. We look at this cake and wonder if we'll still be around when it is 50 years old :)
Basic Brewing Instructions:
Raw Pu'er tea may be given a 5-10 second rinse (Ripe Pu'er may be given two 5-10 second rinses) with the same temperature water as used for brewing.
195˚-212˚ F water temperature.
Use 1-3 teaspoons per 8 Oz. of filtered water.
Recommended first steeping of 30 seconds - 1 minute. Add 30 seconds for each subsequent infusion.
Tea brewing is meant to be a joyful exploration. There are no hard and fast rules. Experiment with the quantity of tea that you use, and steeping times. Enjoy discovering what your preferences are. They may change day to day.
Tip: We like to warm the gaiwan or yixing with boiling water first and when it is thoroughly hot, pour the water out and place the dry leaf inside and cover for a moment. As the leaf is gently warmed by the heated vessel, you will experience aromas you might have otherwise missed. As the tea cools, look for subtle (and sometimes not so subtle) changes in what you smell.
A very special thank you to our dear friend, Milla, for her label design! Check out her website