Teaware
Loose Tea Infuser w/Pitcher - 7oz or 14oz
Simplified loose leaf tea brewing. This device offers a quick and easy way to brew your loose leaf tea multiple times, as well as provides a serving pitcher all in one. Removal of the tea leaf is easy, and the tea brewing process is simplified to the push of a button.
Excellent for at the office, and a prefect device for bringing on your travels to ensure that you can always partake in your healthful tea ritual wherever you are!

Infuser basket – SMALL is 7oz, LARGE is 14oz
Pitcher – SMALL is 16oz, LARGE is 32oz
Keep it looking brand new with our exclusive Smart Soak Tea Stain Dissolver!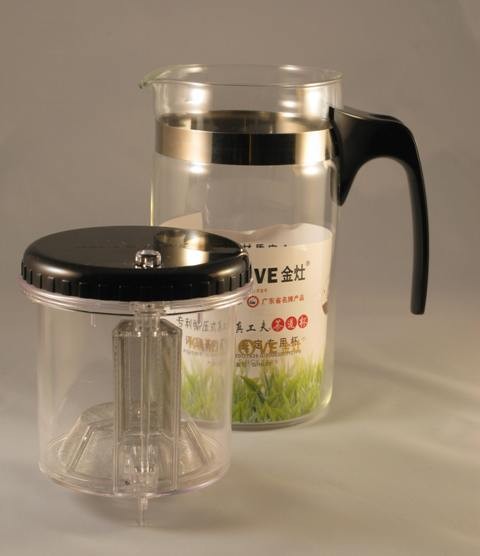 Additional Info
Simple!  1) Set infuser into pitcher and load tea of choice inside. 2) Add appropriate temperature water to infuser. 3) When desired strength/infusion time is reached, press the button. 4) Watch the tea liquor pour out of infuser and into pitcher, the tea perfectly strained and ready to drink. 5) You may decant tea straight into cups from pitcher and enjoy. 6) Repeat steps 1 through 5, adding time for each infusion until your leaf is exhausted or you are waterlogged. 7) Buy more brewers and tea to gift to friends.